WITH YOUR HELP WE CAN ACHIEVE THESE GOALS AS WELL!
TAKING ACTION ON DIGITAL GAP AND LACK OF PROFESSIONALISM IN TECHNOLOGY AND SCIENCE
DECREASE THE GENDER GAP IN TECHNOLOGY AND SCIENCE
SUPPORTING SCHOOL TEAMS AND EXTRACURRICULAR PATHWAYS IN AREAS OF EDUCATIONAL POVERTY
Individuals and companies can make their expertise available to teams. The in-depth topics are the most diverse (technical and non-technical) from programming to team building, from marketing to fundraising.
Mentors, like all volunteers, are called to be an example and inspiration and to promote the FIRST® Core Values
FIRST®: a sport in which everyone can become a professional player.
It is possible to support individual teams and events or activate partnerships to bring FIRST programs to your territories.
It is also possible to donate equipment, provide space and/or services also to enable teams to participate in events.
We are a Noprofit Association. Donations take advantage of current tax benefits.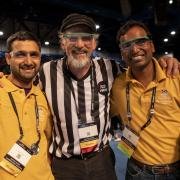 FIRST® would not exist without the work of its volunteers!
In addition to accompanying teams as a coach or mentor, it is possible to participate as a volunteer in organizing and managing events, support in fundraising and promoting activities.
It is possible to activate as an individual or activate corporate volunteer paths.

The companies that are

supporting our activities